First in the World. Shore A2 Rubber-like Resin
Clearly expressed material softness with numerical values
Recently, we quite often see promotional expressions like "Being able to print with soft materials". Often, with only the word "soft", it is difficult to comprehend how soft it is. MITS clearly express resin hardness with values.
The resin hardness is expressed based on the standard of Shore durometer type A.
Sometimes it is referred as "Shore hardness".
Materials and Compatible 3D Printer Models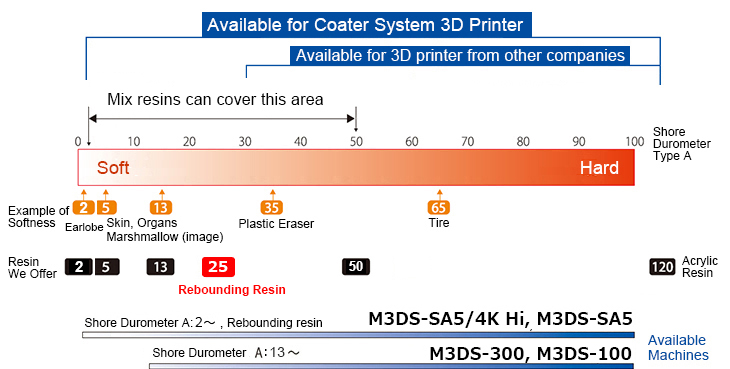 We add Shore A2 resin in the product lineups.
All resins are low skin irritation.

| Product | Sample | Application |
| --- | --- | --- |
| Shore A2 rubber-ike resin NEW  | Earlobe | Human body parts |
| Shore A5 rubber-ike resin | Skin, Organs, Marshmallow | Grip parts of hand, Organs |
| Shore A13 rubber-ike resin | Gummy | Soft parts of robot such as bellows |
| Shore A50 rubber-ike resin | Tire | Hard rubber parts of robot such as tire and caterpillar |
| Heat Resistant Acrylic resin (Hard) | Plastic | Hard plastic parts |
| Shore A25 rebounding resin NEW | Plastic eraser | Pneumatic pump, actuator, tire |